Your Private Estate
Reserve the entirety of the Stavrand's 6 acres, 21 guestrooms, and common spaces. Treat yourselves, your family, and your friends to an entire weekend (or weekday) at your own private estate. Foster connections and celebratory relaxation by welcoming everyone to experience events-within-the-event right here under our redwood trees. The Stavrand is large enough to meet the needs of weddings up to 105 guests, and small enough to treat you as our only client.

Avoid commercial venues that rent a single space for a handful of hours; instead, opt for a setting ideal for the entire "arc" of a full experience — a welcome reception, ceremony, dinner party, dancing, and a send-off brunch all in one place (and variations on that concept, catered to your liking!).

Tour our property to get a feeling for the magic of our unique setting, tucked away on a quiet hillside yet completely connected to the various Sonoma County excursions that will round out your nuptial retreat.
Wander Into Forever Together
Dedicated Manager to Oversee Wedding

Complimentary Onsite Self-Parking

A Talented & Collaborative Chef

Space for Weddings of up to 105 Guests

Guest Accommodations

Couples' Massages
Full-Estate Buyouts
For most dates, guests reserving weddings will be asked to commit to a full rental of the the Stavrand for their exclusive use, with a two-night minimum stay. This approach ensures that your group can enjoy the property to the fullest, including all of the property's indoor and outdoor areas.
As our exclusive guests during your wedding, your friends and family enjoys a fully-customized experience, complete with creative décor and unique activities across the Stavrand's 6 acres.
Bower
9,000 sq. ft.
Named for its dramatic forest backdrop and signature "heart-knot tree," this upper level of the property offers over 9,000 square feet of space nestled into a private inner edge of the estate. Some couples opt to hold their ceremony in this area and then dine in the Chef's Meadow or indoors at Stavrand Hall to make the most of the expanse of the property.
Stavrand Hall
1,000 sq. ft.
This building was shaped in the image of the original Belden family barn. Its modern construction was further improved by a renovation overseen by local restaurant icon Crista Leudtke. Nearly 1,000 square feet of flexible space includes an enclosed patio that serves as an oversized window overlooking the property and its courtyard.
Courtyard
900 sq. ft.
At the heart of the hotel, this central space is defined by the beautiful white guestroom buildings and their Talavera blue accents. Two firepits and casual seating may be reconfigured to provide rows of seating in this 900 square-foot area. Alternately, this area works perfectly for dinner or mingling.
Sun Room
500 sq. ft.
French doors separate the main living room of the Belden House from its more casual Sun Room space. Originally an outdoor patio, the room now features dramatic windows overlooking the Stavrand's redwoods, and puts standard board rooms to shame. The airy and charming space retains its own wood-burning fireplace made of historic river stone. Elope here in cooler weather with the half-round of glass behind you and the warmth of the hearth on the facing wall.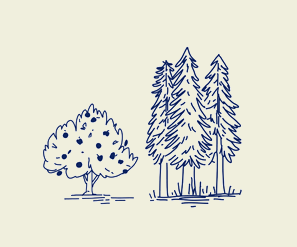 "We held our wedding at The Stavrand. We were fortunate to reserve the full property for the weekend and had our Friday night welcome dinner and Saturday ceremony and reception onsite. All our closest friends stayed with us on the property for the weekend, which was so much fun. Leading up to the wedding, Kayla and Emily were such a pleasure to work with - super responsive and collaborative, and we could see that they were truly invested in making this a perfect event for us. That hospitality extended across the full staff. Everyone that works at the Stavrand was so kind, attentive, and excited for us! The highlights of our wedding weekend have to be the breakfasts, the beautiful ceremony location, and the romantic reception setting in the Chef's Meadow. My husband and I can't wait to spend an anniversary at The Stavrand to relive our special day."
"Emily, Santiago, and the team at the Stavrand have been incredible. They have gone above and beyond to help us plan our wedding— carefully shaping our weekend while giving us the freedom to customize where we want. Throughout this process, they have made us feel so welcome, cared for, and at ease— this is such a genuine and kind team. We're so excited to have our wedding at this beautiful, warm, and special space with our friends and family. We feel so lucky to have found the Stavrand!"
Capacity Chart
Event Space
Approx.
Sq. Ft.
Mingling Capacity
Seating Capacity
Location
Features
Requires Hotel Buy-out
Chef's Meadow
25,000
105
105
Outdoors
Best for Sonoma culinary ambiance, especially April through November
Yes
Bower
9,000
105
105
Outdoors
(Hillside)
Best for secluded setting at upper edge of hotel's acreage; sweeping views
Usually
Courtyard
900
70
50
Outdoors
(Center)
Includes two optional fire pits, nestled among guestroom buildings
Yes
Stavrand Hall
1,000
70
50
Indoors
(Former Restaurant)
Protection from inclement weather with excellent natural light and high ceilings
Usually
Sun Room
500
30
17
Indoors
(Belden House)
Charming and intimate historic space with redwood views and grand fireplace
No